Inbound Marketing and HubSpot Partner
Many consumers and businesses now search the web (via computer or smart phone) to find the products and services that they are looking for, at the precise time they need a solution.  This transformation has changed marketing.
People have found ways to block much of traditional marketing (print advertising, direct mail, tele-marketing) which is interruptive in nature.  The web has provided a way for consumers to seek solutions where they give their permission to engage with the business or organization that offers a solution.
Inbound marketing is a strategy that gives consumers control in the process by choosing to engage with businesses by doing keyword searches; subscribing to email newsletters, blogs, podcasts, and videos; and posting and commenting on social media sites and blogs.
As behavior changes, businesses across industries are shifting investments from traditional marketing to inbound marketing strategies.  HubSpot is at the forefront of inbound marketing.
At Changescape, we've seen this shift happening for years, and we've provided solutions to make this transition.  But when we put ourselves in our clients shoes we kept coming back to a fundamental question:
"Do you want to pay your partner agency to spend time gluing a bunch of tools together or would you rather have them focused on generating results for your business?"
Why did we become an HubSpot Partner?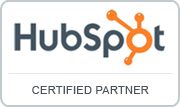 Changescape became frustrated with the amount of time that we were spending just that.  Even when we were using open source tools or inexpensive but proven solutions, we felt like too much of our time was paid to do integration and maintenance and not focused on activities that bring real measurable results for our clients, so we decided to become a HubSpot partner.
HubSpot is an integrated online marketing toolset.  You'd have to integrate and maintain about 20 different solutions to do what HubSpot does.
HubSpot helps you create, optimize & promote your remarkable content by providing: a blog, social media integration, a content management system (allows you to add pages and change content), search engine optimization tools and email marketing.
HubSpot is a subscription based solution which allows our clients to make an investment over time (which is really the best way to approach the web anyway) rather that lay out large amounts of capital up-front.  Many of our customers simply have little money left to tackle the important things like creating interesting content, optimizing it for search, promoting it through social media, and getting and converting leads.
HubSpot also allows you to make smart marketing investments that get results by tracking: the source traffic and leads to and on your website, brand reach, competitors, and blog analytics
HubSpot is a comprehensive inbound marketing solution that speeds the process of getting found online.  It allows us to be more effective and to demonstrate return on investment.
About Changescape
Changescape is a leading HubSpot Partner in St. Louis.  We provide a comprehensive set of inbound marketing solutions to include website design, content marketing, search engine optimization, social media, lead capture and nurturing, email marketing, analytics, online public relations, and customer software development.