Maintaining a strong online reputation is becoming increasingly more important for small businesses.  The reputation of your business is one of the most important aspects of your business, but do you have an active online reputation management program?
The importance of online reviews
In 2015, 92% of consumers regularly or occasionally read online reviews.  The overwhelming majority of people who read online reviews trust them as much as they trusts friends and family recommendations. WOW!
We all know the importance of recommendations and referrals.  We all ask the people we trust.  But more and more, customers are "asking" by reading online reviews.
For some types of businesses, like restaurants or retail, customers check reviews as a critical part of deciding where they go or what they are going to buy.  For most types of businesses, more people are reading online reviews at an increasing rate.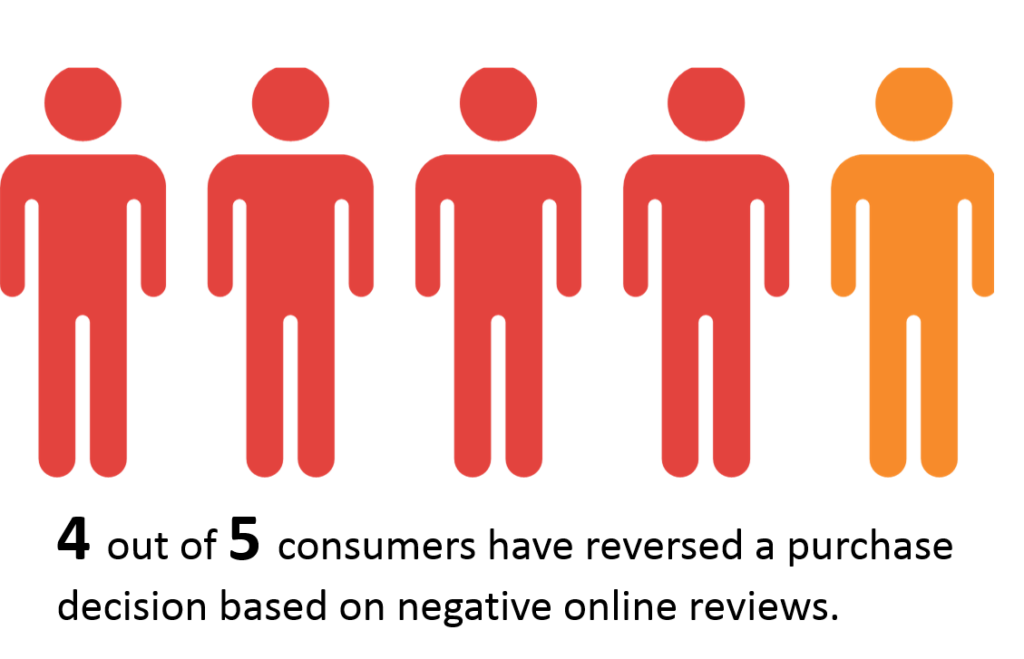 Yet for most businesses, they just let things happen and don't have an online reputation management program in place.
Good Reviews Are Under-Represented
Research indicates that unhappy customers tell more people about their experiences that happy customers. Online it's the same – unfortunately it's much more common for people to write a bad review than it is for them to write a good review.  Having a few bad reviews in the wrong place can really hurt your business or your brand, and can offset hundreds and thousands of dollars worth of marketing and advertising
Happy customers don't often think about sharing their experience, or they forget to do so.  Sometimes they don't write a review because it's just too difficult.
Take Control of Your Online Reputation
Reviews are one of the hottest tactics for SEO.  Google and now Facebook are placing considerable importance in online reviews.  This is perhaps even more important for local search.
Determining which sites allow customers to write reviews, and which ones businesses should focus on is something that requires research and the right tools.  TripAdvisor, HealthGrades, Yelp, Zillow, Avvo… the list goes on and on.  Identifying and prioritizing where customers should write their reviews about a business required strategy and planning.
Online Reputation Management Program Options
Our online reputation marketing program makes it easy for your happy customers to review reviews in the sites online that matter most for your business, and intercept negative reviews before they get posted online.  Our program includes three options:
* Text message credits $10 for 200 messages. Additional message blocks are $7.50 for 200 messages.
Our online reputation management programs are critical components for local search engine optimization.
It's not enough to just post reviews or testimonials on your website.  In order to improve your search ranking, you need to spread out high quality reviews across important online reviews sites, and to monitor those for customer satisfaction.  These reviews need to be authentic and from real people.
Monitor Program
The Monitor Reputation Management System monitors the Internet 24/7/365, looking for any reviews about your business, both positive and negative. It monitors dozens of review sites and sends you a notification email to alert you of new reviews in a timely manner. You'll be able to click on the link in the email to respond to the review.
We recommend responding to reviews. For negative reviews, your response not only addresses the reviewer but also everyone that reads the reviews. If you are concerned about a contentious exchange, we recommend responding to express your concern and to take it offline by providing the reviewer with a phone number or support email for contact. Google and the other review sites see if you respond to reviews or not, and responding has a positive impact on SEO. When you get a positive review, you should at least thank the reviewer.
Why you need this option:
Customers, competitors, the community, and the market are all talking about your business. If they are saying neutral or negative things, that can have a negative financial impact on your business. If no one is talking about your business, that can speak volumes too if none of your customers write reviews. Think how that looks to a potential customer. Monitoring reviews is the first step to preserve your reputation.
Promote Program
The Promote Reputation Management System includes everything in the Monitor option and it adds a customer review funnel web page to make it easy for happy customers to provide you with positive reviews. It also prompts unhappy customers to submit comments privately instead of writing a negative review. This gives you an opportunity to contact the customer and resolve any issues they may have had. We will stream positive reviews onto your review funnel page.
To promote more positive reviews, we create custom printed marketing materials to promote your review funnel URL. These include Review Us cards (business card size) and note cards that can be used to follow up with a customer after a visit or an appointment.
We will claim and set up your Google My Business (GMB) Page and optimize it. If you have already claimed it, all you have to do is add us as a manager of your GMB Page.
Why you need this option:
What if you were able to control what people say about your business? If you don't have a strategy and the right tools in place, what people say about your business is out of your control. We set up a monitoring system as an easy to use review system to actively encouraging satisfied customers to review your business. It's hard to overcome a negative reputation. Take control to direct the overall flow of the online conversation about your business by creating a review funnel and driving positive reviews.
Amplify Program
The Amplify Reputation Management System includes everything in the Monitor and Promote options and adds an email (and optional text message) review invitation system to help stimulate and gather more positive reviews. We can also share positive reviews to your Facebook and Twitter accounts.
In addition to the comprehensive review management system, we'll set your business up on over 60 directories to ensure your business information is complete and the Name, Address and Phone (NAP) is consistent and accurate. We'll update photos, videos, and business hours monthly, as well as post up to 4 featured messages/Google Posts per month.
Why you need this option:
Your customers are searching for your business. They are doing Google searches for the product or service that your business offers along with a location (like Greek Restaurant Creve Coeur or Tax Advisor Cherry Hill). These searches serve as the guideposts to help customers find your business. Accurate and updated directories and numerous strong positive reviews help make this happen.
Want to learn more?  Fill out the form below and we'll contact you to see if our online reputation management solution is right for your business.