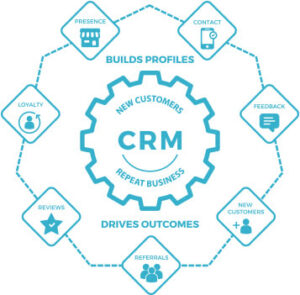 Imagine outcome based marketing – where you build your prospective and current customer database, generate leads, get new customers, drive customer feedback, stimulate online reviews, generate referrals from customers, and build customer loyalty.
Our Outcome Based Marketing Management Program is a key component to improve your presence for local search and online reputation. It includes Call, Text, Email, and Social Media marketing to build a robust customer database as well as to create leads and customers.
Most small businesses invest 95% of their time and budget in advertising and less than 5% on converting a prospective lead into a paying customer.
We focus on key outcomes that are important for your business: an improved online presence, get new leads and customers, gather feedback and reviews from existing and past customers, generate referrals from your customers, and build repeat business through a customer loyalty program.
What we'll do:
Claim, create and submit directory profiles – Discover, claim and enhance relevant local and industry related directories on approximately 60 sites. Create consistent profiles across all of these listings. Listings will be locked to prevent over writing of data from out of date sources. 
Monitor and manage directory opportunities – Ongoing process of optimizing directory profiles and promoting campaigns that help raise directory profiles in search engines by including monthly featured messages and adding photos and videos. This includes identifying and eliminating duplicate listings on the managed directory sites. 
Setup CRM to capture customer data using Call, Text and Email tracking – We'll set up and configure a Customer database (CRM) that will automatically capture customer data as they call or email your business, fill out a form on your website, or join the text message program.
Execute Text and Email Marketing Campaigns – These campaigns will drive new and existing customers into your business by promoting offers, generating referrals, and creating a loyalty program.  These campaigns will be used to capture feedback from customers and to generate strong online reviews from satisfied customers.
Create and integrate robust rating and review web page and process – Develop a process to aggressively stimulate reviews to Google and other review sites including a review only web page and a process to enhance and support increased reviews. Includes review monitoring and notification.
Promote positive reviews on the website and using social media – Set up auto-posting of positive reviews through your social media sites, as well as to stream them onto the website.
Want to learn more about how Outcome Based Marketing can help your business?
Just fill out the form below, and someone from our team will contact you about an amazing offer to get started.