When it comes to marketing, it's important to keep one idea top of mind – strategy before tactics. Our marketing strategy services are based on this idea.
Developing an effective marketing strategy is a critical, and often overlooked or under valued concept.  Without a marketing strategy you have chaos.  We don't like to rely on business growth by letting chaos happen.
We follow the Duct Tape Marketing System to build a marketing system for our clients that starts with strategy before tactics. Learn more about our Marketing Plan Consulting package.
The first and most critical step in developing a marketing system is to focus on marketing strategy.  We focus on the all important strategy elements of your business.  These include:
Creating the Vision
Discover Your Ideal Client
Your Unique Core Difference
Brand and Identity Building
What does your business look like in 6 months, 1 year, 3 years? Create a vision for your company – this is what you want to strive for…
Just because a customer might have a need for what you sell doesn't mean they are the right fit for your business. Trying to chase all customer leads to attracting the wrong kind of customer – it can waste a lot of money and can be bad for your business. Instead, imagine what your business would be like if you we able to get more ideal customers.
Communicating your core difference has become very important today.  It's what makes you more findable online by those ideal customers.  Customers have control over the buying process, so your unique core difference is a critical element of marketing strategy, and it drives the focus and the content you create.
It's important to evaluate and audit you brand identity as a part of your marketing strategy to ensure that they are consistent and compatible.
After you have the strategy elements in place, we focus on the how to attract and serve your ideal clients – the customer journey – and to build your marketing hourglass to create a framework for your marketing strategy.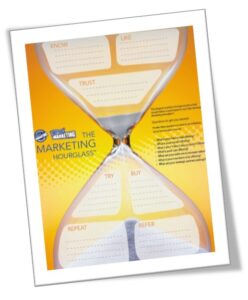 Business growth doesn't happen by chance (or chaos).  It takes a solid foundation – your marketing strategy.  We help you build that strong foundation.
You wouldn't build a house without a solid foundation, so why would you try to grow your business without one?
We offer marketing coaching to help you formulate an effective marketing strategy, brainstorm ideas, measure and track results, and hold you accountable for your marketing efforts. Learn more about our marketing coaching package.