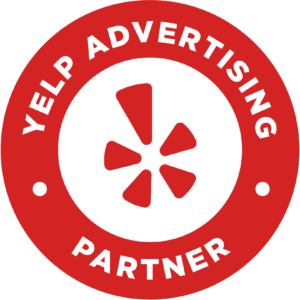 We are thrilled to announce that Changescape Web is now a Yelp Advertising Partner! With resources & support available to us exclusively through this partnership, we can optimize your presence on Yelp and manage search advertising campaigns on your behalf.
Why Yelp Matters: Advertising on Yelp gets you in front of consumers…
…at scale. There are 100MM unique visitors to Yelp each month. 1
…with intent. 97% make a purchase after visiting Yelp. 2
…at the moment of decision. 85% of searches on Yelp are unbranded. 3
So Yelp plays a major role in the customer journey. Yelp users are looking for a solution with a strong intention to make a purchase, but the majority haven't chosen a company when the search (based on research and the types of searches that are done – problem-based, not brand-based searches). In fact, Yelp ads convert at 3x the rate of Google Ads.
We're excited to help you leverage the positive impact of Yelp. Watch this webinar to learn more about busting myths about Yelp myths and why Yelp is SO important for local businesses.
Sign Up for Our Yelp Ads Program, Get a Free 4 or 5-Night Hotel Stay in Mexico!
As a Yelp Advertising Partner, we can provide:
Professional, ROI-drive Ad Campaign Management
Exclusive discounts and promotions only available through a Yelp Advertising Partner
Campaign optimization tools like video hosting, UTM tracking, and more
Support from a dedicated Yelp team
Advanced tracking to include keyword analytics, call tracking, and UTM Codes
Professional Yelp Profile Optimization and management
By the way, Yelp's reach extends beyond the Yelp app and the Yelp website.
Apple Maps and Siri –

Yelp is integrated into Apple Maps and Siri in hundreds of millions of iPhones.

Voice-controlled search –

Yelp's partnership with Alexa offers consumers an even easier way to discover businesses near them.
In-dash navigation systems – Yelp is programmed into the dashboard of smart navigation systems in most cars driving off the lots.
Yahoo and Bing – Yelp is used in the local search results of these search engines
Have you ever noticed that when you do a search for a solution plus a location a Yelp "Top 10 Best" list article shows near or at the top of the organic search results? So if your business isn't ranking high on the first page the Yelp article might be what the user clicks to find a provider.  And even if you rank on the first page, if you've optimized your Yelp profile and have strong Yelp reviews, you are likely to get listed in the top 10, giving you an additional chance of being found.
Contact us to get started!
Sign Up for Our Yelp Ads Program, Get a Free 4 or 5-Night Hotel Stay in Mexico!
Sources: 1 comScore Media Matrix, 2019 | 2 SurveyMonkey Audiences, 2019 | 3 Yelp Internal Data, 2019