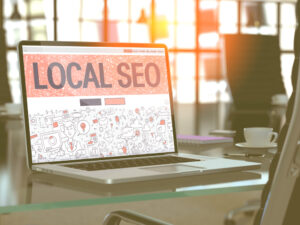 Being found online can be hard to achieve, but using a local SEO strategy can be very effective. Search engine optimization in is a baffling process to many business owners. One day your website is riding high on the first page of Google, and the next day it is nowhere to be found. What is even more mystifying is how your website ranking will fluctuate without even touching anything. It's no wonder why business owners ask "how does local SEO strategy work?"
The truth is that the answer to this question is not entirely simple. There are many determining factors that impact your local SEO ranking. In fact, it's believed that Google has around 200 ranking factors in total. While we don't know exactly what those ranking factors are, your St Louis SEO company has a good bit of insight to help navigate your way through the maze.
Just recently, we published a post that discussed why SEO matters for your business in St Charles and St Louis. You already know that local SEO helps your business get more exposure online and can even increase sales. But exactly how does local SEO work, and how can business owners maximize their results in the search engines?
What Is a Local SEO Strategy?
Some business owners may be unaware that there is a difference between SEO and local SEO. Local search engine optimization has the goal of helping your business appear in the search engines on a local level. For example, it won't do your local St Louis pizza shop much good if your business listing appears in Orlando, Florida. Luckily, Google is smart enough to not display your listings in obscure places like this instance—but part of this is due to smart optimization.
Your local SEO results don't happen by chance. There are numerous strategies and platforms that you need to use in order to get the most out of your local SEO.
Tapping Into Maps for Local SEO
Perhaps one of the top starting points of your local SEO strategy is getting your business on the map—literally. This involves listing your business on Google My Business so it will appear on the map when customers search for your business. It's an important step that you can't afford to miss when it comes to increasing your exposure online.
Luckily, getting your business listed on Google My Business is a snap. After signing up for an account, you'll need to claim your business. This typically involves having a postcard sent your business that includes a PIN number, and you'll enter this PIN into the backend of your Google My Business account once it's received.
You'll also want to be sure that your Google My Business Profile is filled out in its entirety. Be sure that you select the correct category and fill out a description about your business. Also add photos if you can along with your hours of operation—generally, any information that will help potential customers learn more about your business.
As you're setting up on Google, you'll also want to complete the same process for Bing and Yahoo!, as well as on Apple Maps and Mapquest. Although Google is the most frequently used search engine, you'll want to cover all of the bases you can to maximize your search engine results.
Directories Help Give Your Local SEO a Boost
Aside from the major map listings of Google, Bing, and Yahoo!, business directories are another piece of the puzzle of how local SEO works. Even if your business website doesn't have the best search engine rankings, many directories do. This means that if a potential customer searches for your business, you still have a chance of coming up on the first page of the search engines if your business is listed on a directory.
However, it's important to understand that you'll want to be listed on more than just two or three directories. To get the most mileage out of your directory listings, try to sign up for at least a dozen. If you need a few ideas of some of the best directory listings to enhance your local SEO in St Charles, take a look at HubSpot's The Ultimate List: 50 Online Business Directories.
Keep in mind that you'll want to keep all of your NAP data (name, address, phone number) identical across all platforms. This is very important, because Google views varying bits of NAP data as two separate entries, such as:
100 Maple Drive
100 Maple Dr.
555-555-5555
(555)-555-5555
As you can see, "Drive" is spelled out and abbreviated in two separate instances. Pick one way to spell your street name (drive vs. dr, avenue vs. ave) and stick to it. The same goes for your phone number and company name. This will eliminate inconsistencies in your NAP data and help customers quickly find your information online.
Building Local Authority for Your St Charles or St Louis Business
Once you set up your foundation with mapping and directory websites, you'll want to begin working on becoming a local authority in your industry. This takes time to achieve, and one place to start is by focusing on long-tail keywords and citations.
Long-tail keywords are highly specific phrases that can help connect customers to your business. These phrases typically consist of three-to-four words, and can even include geographic terms. An example of a long-tail keyword would be "deck builders St Louis Missouri." A deck builder company can piggyback off of this long-tail keyword phrase and develop content around it. As the website builds authority with quality content and even social shares, rankings in the search engines will slowly begin to rise.
However, local SEO in St Charles and St Louis goes even deeper than those building blocks. As we continue to explore how local SEO in St Charles works, you'll also begin to understand how you can maximize your results with the process and get the most in terms of ROI.
Diving Into Your Business Directory Listings
Did you know that old or outdated business directory listings can negatively impact your local SEO? It's true. Inconsistencies and incorrect information can push your business listing off of page one of Google, and even send customers contacting a competitor. It's vitally important that you stay on top of your business directory listings, and a professional reputation management or SEO company in St Louis such as Changescape Web can help.
When it comes to getting your ducks in a row with local business directories, duplicate data is one of the major negative factors that you'll want to watch out for:
Duplicate listings: While duplicate listings in itself won't necessarily hurt you, the issue comes down to wrong variations within that data. This can consist of a typo of your phone number or street address, or inconsistencies in your NAP (name, address, phone number) data can cause confusion with Google or your customers
Lower search engine rankings: Duplicate data is also responsible for directly dropping your search engine rankings. This is because Google is constantly ensuring that users have the best experience possible when using their search engine—and duplicate listings isn't considered to part of a user friendly experience
Keep in mind that the search engines crawl the number of sources where your NAP data is stored, not necessarily the individual listings on each resource.
Building Trust and Authority in the Search Engines
The truth is that building trust and authority in the search engines isn't a quick process. It can take quite a bit of time to rank your website or NAP data in the search engines, let alone build a solid and credible reputation online.
However, there are numerous methods you can use to help yourself get ahead of the game in terms of building trust and authority on Google.
As we've mentioned multiple times, consistency is extremely important when it comes to building credibility on Google, especially in terms of your NAP data. You must ensure that your information is accurate across all platforms.
Second, you'll want to be sure that your information comes from sources that customers and search engines trust. For example, most customers will trust NAP data when it's listed on Google My Business. However, new or otherwise unknown third party directory websites might leave customers (and Google) second-guessing their credibility. If you have any doubt of credible sources to use for your business, Changescape Web can help.
Get Proactive With Online Reviews
Customers read online reviews before making decisions to buy or work with your company. Review websites are very important for the reputation of your business online. You can use reviews to enhance your business, but you need to stay on top of the game and ensure that you're responding to every comment whether it's positive or negative.
So, why are online reviews so important?
When you're managing online reviews, online reputation management services with Changescape Web might be a smart investment for your business. Online reputation management can help remove false or even illegal content that is hurting both your reputation and SEO rankings.
SEO Focused Blog Content Can Give Your Website a Boost
Did you know that blogging for business has many benefits for local SEO? The trick is that you need to incorporate targeted keywords in order to maximize your efforts. The system of effective blogging for business and local SEO generally goes like this:
Keyword optimized websites will help with local SEO. Focus on keyword rich topics as well as long tail searches.
After you develop great content for your blog, you'll want to work on outreach. This means that your blog content will need to be great enough for other websites to link to it as reference, or even share with friends on social media.
You'll also want to position yourself as an expert in your field with your blog content to help build authority. You can do this by blogging about industry news and answering customer questions.
Paid Advertising as a Local SEO Strategy
The downside to organic SEO is that it can take a very long time to achieve results. However, you can invest in paid local SEO with pay-per-click advertising on Google. This will help give your website an instant boost and appear right in front of your customer—you'll have to manage your campaign and optimize ads for your target keywords, but there is no waiting time involved.
Enhance Your Online Presence With a Local SEO Strategy From Changescape Web
Competition is very tough in the world of local SEO. Google's ever-changing algorithm only makes the process even more complex, and it can feel like a full-time job trying to figure out how to develop a local SEO strategy in St Charles.
Instead of getting frustrated with local SEO and throwing in the towel, contact Changescape Web to get your online presence back in the game. Click here to contact us today.
Learn How Changescape Can Improve Your Local SEO