Marketing has changed.  Nearly everyone turns to the web to find local businesses.  Being found through local search has never been more important.  It's time to supercharge your local rankings with a Duct Tape Marketing Jumpstart by Changescape Web.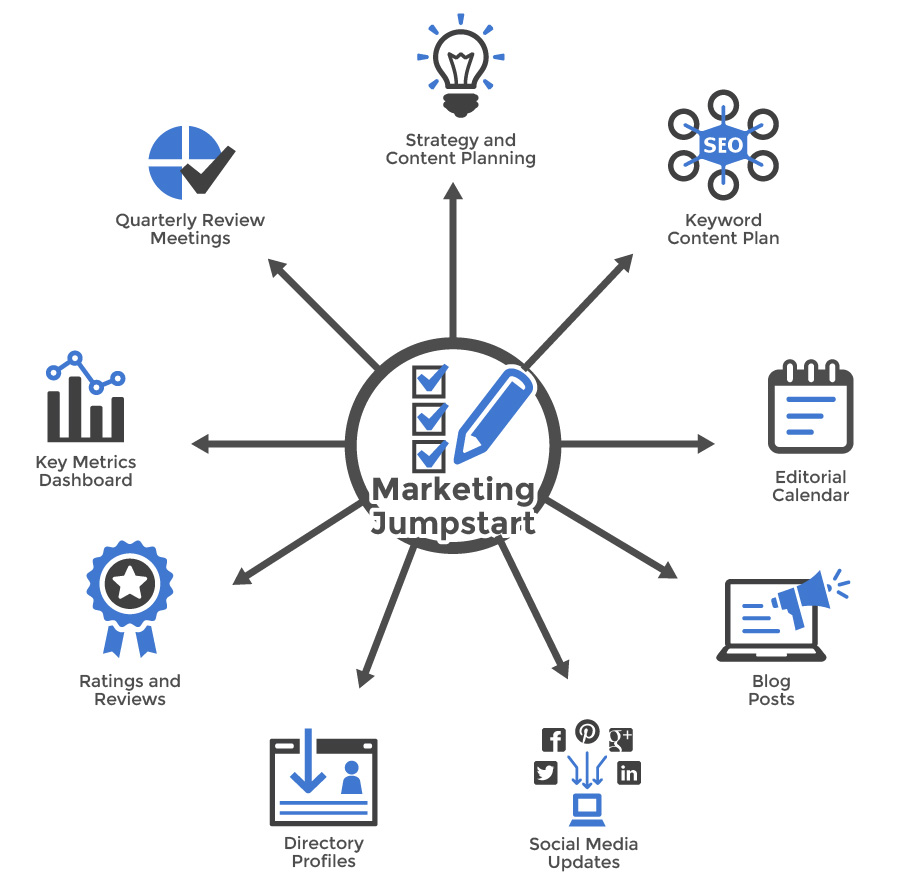 We focus on working with businesses in St. Louis, St. Charles and surrounding counties to help them become more findable online.  This package is designed to quickly get your business higher in local search rankings, which increases exposure of your business to generate more leads.  We've got the tools, expertise, and system to drive results for your business.
The Marketing Jumpstart package is a managed marketing service offering where we:
Conduct initial Strategy and Content Planning Meetings – Two in person or virtual sessions to conduct discovery and research and present initial strategy priorities.
Develop keyword content plan – List of key themes that will be the focus of any content and SEO opportunities.
Create editorial calendar – Install editorial content plugin (WordPress only) or develop content topics spreadsheet for upcoming quarter.
Write and post two blog submission per month – Two 500-700 word blog posts taken from key content themes, posted to WordPress and optimized for search engines.
Publish 50 social media updates across Facebook, Twitter and LinkedIn per month – Hand crafted posts taken from client's content, list of industry influencers and proven engagement tactics to stimulate social media growth, activity and engagement.
Create email newsletter twice per month – Two email newsletters each month pulled from the blog posts and social media posts for the month.
Claim, create and submit directory profiles – Discovery and enhance relevant local and industry related directories and create consistent profiles across all.
Monitor and manage directory opportunities – Ongoing process of optimizing directory profiles and promoting campaigns that help raise directory profiles in search engines.
Create and integrate robust rating and review web page and process – Develop a process to aggressively stimulate reviews to Google and other review sites including a review only web page and process to enhance and support increased reviews.
Create key metrics dashboard – Creation of a client dashboard to monitor growth and improvement in key indicators such as website traffic, social metrics, reviews, and keyword ranking.
Report on key performance metrics monthly – Monthly status check in and reporting to gauge and adjust progress and tactics.
Conduct monthly review meeting – Monthly in person or virtual session to plan upcoming content themes, adjust and add new tactics.

Our Marketing Jumpstart package is a monthly program. The first month is focused on getting your marketing strategy and marketing system in place. Typical engagements are as follows:
Month 1 – Strategy and Content Planning, Keyword Research, Create editorial calendar, claim business directory listings and setup online review process, create metrics dashboard
Month 2 and beyond – Begin content creation activities (blogs, social media updates, email newsletters), manage and update business directory listings, facilitate and manage online reviews, provide ongoing SEO, provide monthly reports and conduct monthly meetings.
You can also double up on the first month to accelerate the program to include the content creation activities (which normally start in month 2).
Contact us to learn more about the Duct Tape Marketing Jumpstart package.