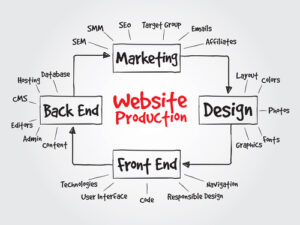 It's that time of year again, when providers of website design in St. Charles, St Louis and surrounding areas start paying attention to the trends they'll need to watch and embrace in the year ahead. If you're planning to engage a website design firm to build or update your business web pages in 2016, you too, can benefit from a basic understanding of the latest web design trends.
The Top 2016 Website Design Trends Explained
As a way to begin rounding out the 2015 year on this blog and to offer you some information you can make use of in your business, I thought it worth outlining 3 key trends which are expected to influence providers of website design in St. Charles next year and which may, in turn, have an impact on your website construction, update, or optimization plans.
The Website Design World Wakes up to HTTP/2
If you engage a savvy provider of website design in St. Charles sometime over the next 12 months, don't be surprised if your contact recommends you have your site designed to run on the Internet protocol known as HTTP/2.
Most current websites are on the original version of HTTP (Hypertext Transfer Protocol), which was launched way back in 1999 and is really too outdated for the needs of today's website owners, as well as those of the browsing masses.
Indeed, Patrick Stox, a columnist for Search Engine Land, advises readers in his article, titled Why Everyone Should Be Moving To HTTP/2, that by remaining on the older HTTP protocol, website owners are missing out on what he describes as a "tremendous" increase in page-loading speed.
You probably don't need me to tell you what the benefits of a fast-loading website amount to in terms of visitor engagement. Suffice to say that even back in 2009, then O'Reilly Media Technical Evangelist and writer Brady Forrest was reporting on the study and findings of Bing and Google that "speed matters" and how page-loading delays of as little as half a second negatively impact visitor attention.
In short, what Forrest's Bing and Google Agree: Slow Pages Lose Users article tells us is that fast-loading pages deliver a competitive advantage to your business. If it was true in 2009, the ramifications are surely magnified today. Clearly then, HTTP/2 should be on the radar of any business contemplating investment in website design in St Charles, since adoption of the new protocol is likely to accelerate through 2016.
More Moving Pictures
As anyone who knows website design in St. Charles will advise you, the concept of a website as a digital brochure, offering business-marketing content in a static, keyword-stuffed, series of pages is no longer relevant. While at the other end of the spectrum, needless bells, whistles and bandwidth-sapping animations do little for business website success, although today's website visitors—the millennials especially—do love to engage with video.
In catering to the desires of consumers who are also Internet-video fans, website designers will increasingly build pages in ways that support and complement video tutorials and guides; product reviews, testimonials, ads, business introductions, and calls-to-action. Expect too, to see more St. Charles website design specialists utilizing another moving-picture concept—cinemagraphs.
As front-end developer and author Sam Hampton-Smith writes in his Top Web Design Trends for 2016 article for Creative Bloq, cinemagraphs have captured the attention of the website-design fraternity recently, as a result of technology advances and the arrival of Apple's "live photos."
More subtle and artistic than animated GIFs, cinemagraphs are already a hit with big-name retailers and brands, which are using them increasingly to visually enhance their advertising campaigns. As 2016 progresses, I believe cinemagraphs will become a media variant often recommended to small-business clients by experts in St. Charles website design.
Usability Trumps Visibility
The one trend that's most likely to drive major changes in website design for St. Charles businesses is an inexorable shift in what consumers expect. Highlighted as the key theme throughout an article (called 16 Web & Graphic Design Trends To Watch In 2016), published by visual journalist Ernesto Olivares on the readers' and writers' website Medium, usability and user-experience are becoming the standards against which business websites are measured.
Olivares predicts that factors such as responsive web design, visual storytelling, smart menus, and the ability for visitors to interact more fully with your business through your web pages, will make the difference between your website's success or failure as a marketing platform.
In fact, it's probably fair to say that marketing copy and content should become but one element of your website's function, sharing online real estate with features such as live chat, knowledge centers, and interactive services that customers can access and use in real time.
Over the course of 2016, it will become much more natural to think of what we now call website "visitors" as website "users." This probably means that providers of website design in St. Charles will see a lot of action, as businesses owners sense the urgency to rethink website strategies, layouts, and approaches to optimization.
An Exciting Year Ahead for Web Design in St Charles
The three trends I've showcased in this post are typical of the rapid changes that make website design such an exciting business. For your own business, revisiting website design doesn't have to be a daunting prospect. Changescape Web provides website design for St. Charles businesses and those in surrounding localities, along with managed marketing services tailored to the needs of the smaller enterprise.
To find out about our full range of website design and development specializations, click on over to our website services page or give us a call at 636.947.6200.