Google Local Services ads are here, and they have rolled out to 17 cities already and will be expanding to 30 cities by the end of the year. This is likely to be a game changer for businesses who offer particular services in the metro areas where the Google Local Services Ads have been launched.
UPDATE: These are now live in the St. Louis Metro area!
What are Google Local Services Ads?
To provide a good overview of what Google Local Services ads are, we've put together a video to explain what they are, how they will work, and what that means for affected businesses.
Google is about to make the biggest change in how customers find local businesses in several years. This is going to be one of the most impactful things to make your business findable online… or not!
If your company provides any of the following services, you will be impacted soon, if not already:
Plumbing
HVAC
Electrician
Locksmith
Garage Door
The Google Local Services ads are a part of Google Home Services, which also includes advanced verifications of businesses and the option of committing to the Google Guaranteed program. Google Guaranteed providers are background-checked and meet relevant insurance and licensing requirements. When you book an eligible Local Services provider on Google, you're protected by the guarantee.
Why will Google Local Services Ads be Important?
Local Services ads will display at the top of the page, followed by the Google Map results, which typically lists 3 results. To see any other search results (where your website can be down in the organic search results), you have to scroll down. While it's not in St Louis yet, it will be here soon.
In fact, one of our customers just received an email from Google that says,
"Due to the fraudulent unlicensed and uninsured locksmiths Companies circulating on our Google search engine. We've developed a new platform that allows customers to get in direct contact with only licensed, insured, and reputable businesses that will be featured at the top of the Google Search Engine".
That platform is the Local Services by Google program.
Local Services ads are a pay per lead model, as opposed to the typical pay-per-click model that is commonly used in Google AdWords.
If you do not pay to rank at the top or have a strong Google reputation so that you can show up on the Goole map results, your business is likely to miss customer opportunities when they do a Google search.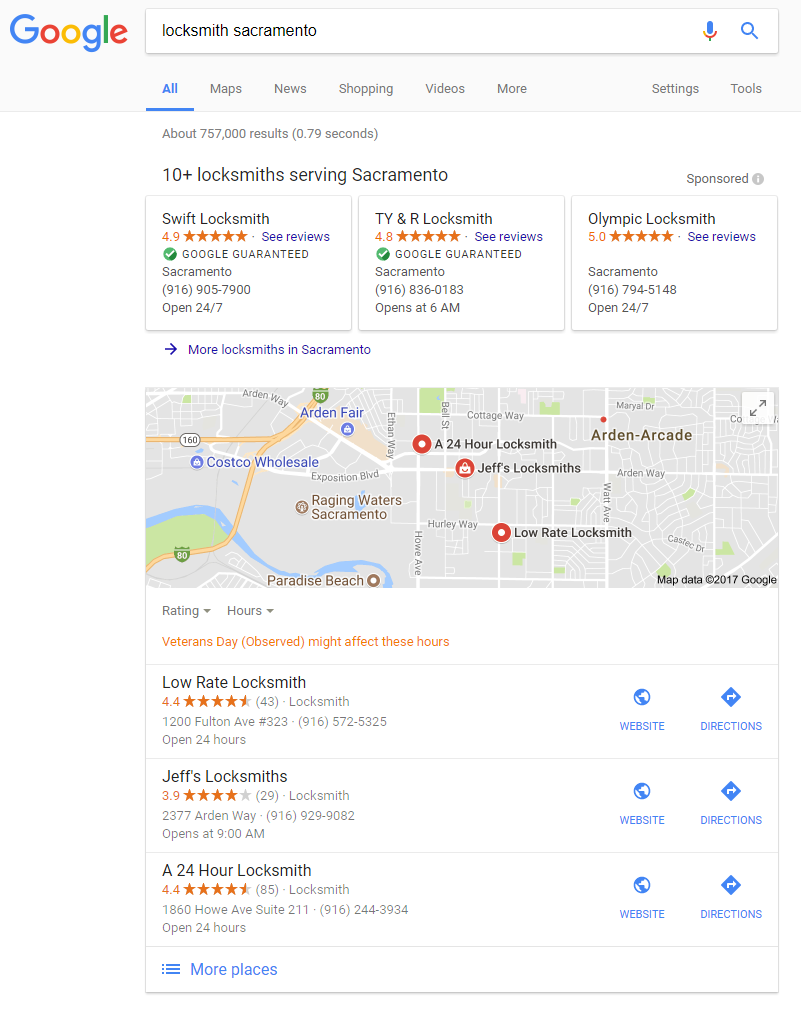 Don't just believe us – check it out directly from Google: Getting started with Local Services ads
What Local Services Businesses Should Do Now
1. Be an early adopter of Google Local Services in your market
We recommend that businesses that offer the home services that will be impacted by the Google Local Services ads be proactive and take advantage of the program early to beat the competition. Some businesses that have joined the local services program have seen an increase of 70% in booking rates, according to Google.
2. Focus on your online reputation
To do this, we recommend businesses complete and optimize their Google My Business profile – which helps you show up on Google Maps results.
Businesses need to have their Name, Address, and Phone Number (NAP) consistent and accurate on dozens of important online directory sites. These directory sites, when your NAP is consistent, can help to build trust with search engines.
Take control of your online reviews by creating a review funnel to help your business monitor online review and to make sure that you are getting reviews on the review sites that matter most to your business. Google reviews are king when it comes to showing up on Google Maps!
Register for our Online Reputation Management Webinar
Is your business ready for this game-changer?
Changescape Web can help. Contact us to learn how we can help your business with Google Local Services ads, Google My Business setup and optimization, building out your directory listings with the accurate NAP, and online reputation management. Complete the form below and will contact you right away!
Transcript of the video follows:
Ken Tucker:                        Hello, this is Ken Tucker and Paul Barthel. We're here to talk about the Google Local Services Ads. We really think that this is going to be a big game changer for the way a lot of local services businesses are going to be found online, so we felt it was important to go ahead and put together a video and kind of walk through an overview of what these local services ads from Google are going to be, are going to look like.
What Google is really doing is they're launching this around initially some home services, related businesses, and it is a lead generation program. So these ads are going to operate a little bit differently than a pay-per-click model or even a display model. You're only going to be charged when somebody either places a phone call or submits a form via the web, either a text message or an email. So this is going to be a big deal, and there are certain industries that are being impacted right away.
As a matter of fact, currently, and also some markets that are being impacted. There's also going to be a big roll out between now and the end of the year. The Google Home Services Ads, right now they're running for plumbers, locksmiths, electricians, HVAC contractors, and garage door companies, garage door service companies, and you can see the areas where these are currently running. Now this is the service categories in areas as of November 9, 2017. Google has recently announced, and there have been several articles about this online, that they're rolling this out to a total of 30 cities. Right now they've got 17. It is going o go out to 30 cities by the end of the year, so this is going to be a big impact for businesses that offer these services.
When you take a look at the markets that are impacted, currently with Google Home Services Ads, I just grabbed the top 30 DMAs in the largest market areas in the country, and the ones that have the red arrows, right now this is where we don't know when the ads are going to be launched, but you can see many of the top 20 DMAs, the ads, are already delivering. San Diego is one of the exceptions. They made the top 30 where it's running. It looks like there were some cities that were launched in California that are a little bit smaller as well in terms of total metropolitan area size.
The takeaway there really is, if you're providing these services where you're a plumber, a locksmith, electrician, HVAC contractor, or garage door services company, you may be asked now to complete the form that you're going to see on the next slide to pass advanced verification. We've already had this happen for one of our clients. Paul, do you want to talk a little bit about this?
Paul Barthel:                      Yeah, this already happened in areas where the service ads aren't even running yet, so they're targeting the businesses that were seen on the previous slide. We had one of our customers had their ads disapproved. It was a local locksmith and they had to fill out this form in order for their ads to start showing. What's interesting is they also do security camera installation, were running ads for those as well, and those ads were unaffected. It was only the ads targeting keywords around locksmiths that were disapproved and affected by this.
Ken Tucker:                        Yeah. You can see up here toward the top, it says businesses that are being asked to provide this information right now, in California it's all garage door services companies. It's locksmiths all across the US. So what's interesting is a couple days later after our client filled in that form, they got an email from Google that announced the local services program to them and so this is what that email looked like. We just thought that that was really interesting, but this is happening here and now in a market in Saint Louis where this program has currently not been launched yet, so it's imminently coming. We know that there are going to be another 13 cities that are going to be impacted with the rollout of this by the end of the year. More are coming, and who knows what other service areas are going to be impacted as they move forward.
Let's talk a little bit about what are the local service ads all about. So what's going to happen is you have to apply into this program. It is going to be a brand-new program so it's not a part of Google AdWords Express. It is not a part of Google AdWords. This is a completely different program, you have to apply to join. You have to go through the vetting process, where they're going to research your business and verify your business insurance and things like that. Then once you've passed that, you have the ability to show up in these local search ads, or local service ads I should say.
These are going to be displayed at the very top of Google, and you can see a snapshot here of what that would look like. In this case, plumbers serving San Diego. So here's another screen capture we did where we did a search for locksmiths in Sacramento, another market that we know they've already launched in, so you can see, on the top half of the screen, the ads that are displaying. Then when you look down at the second half of the screen, pay attention to this sponsored window that we expanded, and it talks about that they're only going to be providing or allowing people to be in here who have gone through the screening process.
You'll be able to get this Google guaranteed badge, which has a Google guarantee behind it. So if a customer hires a contractor and they're less than happy with their services, there's a Google guarantee that's going to be backing that up, and so the only way that you can get into this space is to pay to advertise through the Google Local Services Ad program. Another interesting thing is, this is a simplified advertising program so it's going to be triggered by these high-level services of HVAC and plumbing and electrician, and things like that, but within those areas you're going to be able to have the ability to pick the geography of where you want your ads to run, in individual suburbs or neighborhoods in a metropolitan area or the entire metropolitan area for that matter.
You're also going to be able to pick and choose some predefined categories where you want your ads to display. So if you want to run an ad as a locksmith, whenever somebody is locked out of the vehicle, you can select that. If you want to select making your copy of a vehicle key, you can run your ad to target that. Likewise, we did a quick screen grab of a plumber and you can see you've got unclog drain, faucet repair, garbage disposal related services, things like that. You're not going to have to go out and do a bunch of keyword research to select these. These are going to be predefined for you, and you basically just pick the predefined services in the areas that you want your ads to run in, set your budget, and then the ad program is going to go from there.
We were looking at a couple of these searches, and we clicked on the two ads up at the top, the Swift Locksmith and the Low-Key Locksmith. The results that we got are displayed below, so you're going to have a form that you can fill out to provide this additional information about your business. That's going to be a really important thing to do, but the other thing is, even if your … When we clicked on the Low-Key Locksmith and we got the expanded information about that business, you'll notice that since Swift Locksmith was still in that first location that they still actually display above the expanded window for the Low-Key Locksmith. So it looks to me like position one is going to be really, really important in this program moving forward.
Paul Barthel:                      Yeah, and something I've noticed and haven't been able to verify this yet, but if you look at the order of these, even though the one on the far right has a five-star rating, Swift Locksmiths showed up first probably because they have that Google guarantee badge.
Ken Tucker:                        Yeah. That's interesting. I think this Google guarantee is going to … First of all, it draws your eye as well-
Paul Barthel:                      Definitely.
Ken Tucker:                        So if you don't have that and a competitor does, and they're displaying their ads, even if they don't get the position preference, it's still going to be something that's going to catch people's eye and maybe make them want to go ahead and click that. So talked about at the very beginning, leads are going to come in either as phone calls or messages. These can either be text messages or email messages, and so it is a pay-per-lead program. This is what Google says they consider to be a valid lead, so whenever you receive a text message or email from a customer, a voicemail, answer a phone call, there is going to be call tracking that these programs are going to be run through so that Google can keep track of all of this.
Even if you call a customer back when you missed a phone call, the number that you're going to call is a Google call tracking number so that they can attribute that contact with that customer as it results to this program. You're only going to pay when these things occur. Now, I'm going to talk a little bit about local search because … and this is going to be a really important thing for these businesses. A local searches is going to be triggered by a search phrase for a service plus a location. So for example, HVAC Sacramento, and you can see the example of the search result that we got here.
You'll notice at the very top, that's where the Google Local Services Ads are displaying. You've got those three ads. This is prime real estate, folks. If Google's using up their prime real estate to position these specific types of ads, you know that they're putting some importance behind it. Right below that is the Google map listings, and this is where you get … how you can get on the map is when you do your Google My Business, or GMB as we refer to it, listing and you really optimize that. Then at the very bottom, almost all the way below the fold, meaning you have to scroll to see it, is where you start to even see the first set of organic search results.
What this means is the top of Google is going to be dominated by these ads and map results anytime you fire a local search. Now, sometimes in order to get a local search to trigger, you might have to type in a city plus the state. For example, HVAC Kansas City, MO, to be able to trigger this kind of a search result, but this is coming and it's going to be a really big change in the way that the businesses that offer these services are going to be either able to be found online or not.
Let's talk a little bit about Google My Business. Really important to complete the listing and make it as thorough and optimized as you can. When you have empty data in your Google My Business listing, you're just missing opportunity right and left. As you can see, when you complete that listing and you have accurate and up-to-date data, you're going to get seven times more clicks, and so you definitely want to get into a rhythm of regularly putting in fresh photos, videos, even doing the new Google posts is probably going to be beneficial for that.
Paul Barthel:                      Well, you're going to get more clicks because Google is going to give preference to businesses that have that filled out and regularly add content to it.
Ken Tucker:                        Yeah, absolutely. One of the things that we've noticed that we do for some of our clients is we do these Google 360 interior views. Some people call them a virtual tour, although that's probably not quite the right terminology, but even having those, that's a different piece of content. It's geocoded so that it ties directly to the physical space of your business. That helps Google know, "Hey, this video was actually shot physically in this location." That's a big deal. This is coming directly from Google on this slide. This is what Google considers for their local ranking factors.
They consider relevance, distance and prominence. So relevance is going to be pulling from a lot of different sources: other websites that are online, the information that's on your website, the quality of what you have on your Google My Business page, things like that. Distance is going to be a factor of where your physical address is as opposed to where the searcher is doing their search from, and so there's a point of diminishing returns, and it also depends on how many businesses offer those same services. The more competitive it is, the more difficult it's going to be to rank based on the distance criteria, but then the other thing, and this is a really big deal, is this idea of prominence.
In this case, prominence is defined as a business's reputation, which includes review count and rating, and I would also even add to that review currency because if you're not continually getting a stream of high-quality reviews on your Google My Business page through Google Reviews, in particular Google Reviews, then you're not going to be able to score well on this prominence criteria. In fact, if you don't manage your reviews, you're risking whether or not your business is even going to show up in search, especially on these map results. So Google My Business and an online reputation management program are absolutely critical, and I think coupling that with the local service ads that Google is getting ready to launch or has already launched in some key markets is going to be a fantastic one-two punch for local businesses to help them make sure that they're found online.
Local services reviews, so you can get a Google review through your Google My Business listing and that's actually a separate process. The local services reviews is actually going to be handled directly through the local services dashboard that you're going to have. So again, the star rating and the number of reviews is going to directly impact your ability to show up in these local services units, basically the ads. You need to think about having a higher composite star rating and getting more reviews to stand out, and get yourself positioned so that you can be in the top three ads that are going to be displayed at the very top of the search result.
There are a couple of different ways that you can do this. You can ask for reviews from inside of your dashboard, or you can actually set it up so that you can ask Google to reach out to the customers that hired you through, or booked your service, through this lead ad program, and Google will make the request for a review for you.
Paul Barthel:                      Something to add here is, like you said, this is completely separate process. This is kind of after the fact. This only applies to people that found you through those lead generation ads at the top of the search results, so if you don't have reviews now and you don't have a high review rating, you're going to have problems getting accepted into this program in the first place. So you have to start that process now.
Ken Tucker:                        Yeah. Online reputation and meeting the critical business requirements to become verified, this advanced verification process by Google, are absolutely critical. So I agree, Paul. I think your online reputation, which is a factor of the quality of the information that's out there about your business, plus the reviews that are out there about your business already are going to be a really important factor. So that wraps it up. At Changescape Web, we do offer the support for the local services ads. We do have an online reputation management program that we have available as well that is a great coupling with the local services ads solutions, and so I would encourage you to check those out.
Reach out to us if you have some questions or clarification on this video that we've done. We'd love to talk to you and help you out about that. Just a little bit about us, we're based in Saint Louis. We really focus on building websites that generate customers. We've got a couple of books that we've recently published that are out there on Amazon. So that's it. Here's our contact information. Thanks so much for taking some time out of your busy day to listen to this. We really appreciate it. Thanks, and we'll talk to you soon.