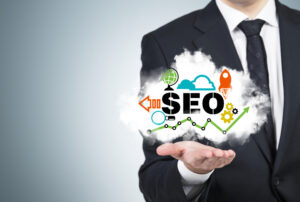 As a business owner, Search Engine Optimization – SEO services likely weren't a part of your marketing plan 20, 10, or even 5 years ago. However, it has become a vitally important aspect for marketing your business online. Search engine optimization has gone through many changes and adjustments over the years, and you need to stay on top of the trends to avoiding sliding down the search results.
If you're a business owner who has yet to think twice about SEO services, there's no better time to start than now. Google had 5 major algorithm changes last year, and Search Engine Round Table is seeing signs of another Google update as we speak. If your digital marketing efforts aren't up to par with Google's newest algorithm standards, you have a lot to lose in terms of both search engine ranking and revenue.
SEO services matter for a lot of reasons. To get started, let's review how digital marketing efforts blends together in your marketing mix, and how search engine optimization is centered right in the middle of the action.
There are generally five options to being found online available. These options include:
Paid Media (Online ads)
Owned Properties (websites, blogs, etc.)
Earned Media (press releases, news coverage, public relations)
Social Platforms (Facebook, Twitter, LinkedIn, Instagram, etc)
Directory Listings
Each avenue connects one aspect of digital presence to another. Your website often serves as the center focus for generating business online. It's a landing destination for paid media, and it's an anchor for social media and directory listings to funnel traffic.  Your website is ultimately the hub of your SEO efforts and the property that you fully own and control.
It's important to realize that social media and directory listing platforms are "rented".  You don't own and fully control those platforms – you are at the mercy of the platform.  And sometimes they go away (lose your page/profile), lose popularity, or change how they operate. And you can be at the mercy of the information (often incorrect or inconsistent) about your business.
No matter how you put the puzzle pieces together for your digital marketing strategy, search engine optimization services play a vital role in terms of how your customers find your business online.
What Exactly is SEO?
For those who aren't familiar with the term, SEO stands for search engine optimization. It's not entirely known who coined the phrase search engine optimization, but Search Engine Journal provides some interesting research on the subject on this article.
In a nutshell, search engine optimization is an inbound marketing strategy process that drives traffic to your website. In this instance, we're referring to what is known as organic SEO—meaning that you do not pay for any Google ads or social media advertising to generate traffic.
Organic search engine optimization can be extremely effective, but it takes time to see results. This is especially the case if your website is brand new or has even been penalized by Google in the past.
Overall, Marketing Sherpa and Enquiro research claims that organic results receive 75% of clicks. This is compared to only 25% of the clicks received by paid ads. Some more recent estimates indicate that less than 10% of searchers click on paid ads.
On the other side of the coin, paid search engine optimization – commonly referred to as Search Engine Marketing (SEM) is another option for business owners. Paid search engine optimization involves listings that require a fee for the search engine to display, such as Google AdWords. This is the fastest way to get your business on the front page of Google, or any other search engine of your choice, but it only works as long as you continue to advertise.
Google AdWords uses a bidding system where business owners bid on a selection of keywords. The more competitive the keyword, the more you will have to pay per click. Some keywords can be very expensive and cost $15 per click and higher, especially in the digital marketing industry. However, your cost per click really all depends on your specific industry, the keyword phrase you want to be found for, the market, and how many competitors are bidding against you for that phrase.
What Are The Components of Organic SEO Services?
The truth is that search engine optimization is very complex. Search engines such as Google and Bing use their own algorithms that determine which websites will rank on page one, two, and beyond. Even SEO experts don't know the secret algorithms of the search engines, although they are able to piece together enough data to help you achieve better search engine rankings.
But what exactly are the puzzle pieces for SEO, and how do we get them to fit?
One component is how likely your website is to be indexed by Google. This is determined by how credible your website is, and if there are any tags on your website that block search engines from making contact.
Your website also needs to be relevant to users, and Google needs to understand its purpose and theme.
Google (as well as Yahoo/Bing) also look for other websites linking to your own. It's best if these websites are referring traffic and talking about your products and services. This demonstrates authority in your niche. Every website has its own domain authority, and the higher the authority the more valuable the link is. Keep in mind that the value for your website is for other high authority or highly relevant websites linking to your site.
Google is especially concerned about user experience. Your website needs to be easy to use by your customers and be easy to navigate. Your webpages need to load quickly too – especially as searches and visits increase from mobile devices.
The Four Pillars of SEO
The truth is that there are many components that influence the way that SEO works. There are four essential pillars that come together and help your website achieve higher rankings on Google. These four pillars include:
Search Engine Optimization: This refers to organic SEO efforts on small business websites, such as keyword strategy, content, link building, title tags, header tags, alt tags, site architecture, and more.
Reputation Management: This is the effort of monitoring and enhancing the public perception of your company online.
Content Marketing: This pillar refers to using content to attract traffic and inbound links to your website and new business. Content marketing involves blogging, eBooks, white papers, case studies, and more.
Local Optimization: This pillar is a big piece of the puzzle of SEO for local businesses, which has a direct connection with funneling local traffic to your business website.
These four pillars, when done in conjunction with each other, amplify results and provide both a potent short and long term strategy to make your website findable. SEO services are ultimately about building an effective total online presence.
Content Marketing, Social Media Marketing, specific SEO tactics, and Reputation Management will be topics of future blog posts.  Given the focus on many of our customers is on getting local business, the rest of this post will focus on local SEO.
What is Local SEO?
The idea behind local SEO is to attract visitors and leads to your website that are local to your area. For example, if you're a dentist in St. Charles, it won't do you much good to attract customers from Atlanta. You'll need to ensure that traffic coming to your website is qualified traffic from a local source, which is accomplished in several ways:
Focusing on accurate and robust listings. Online listings such as Google My Business, Apple Maps Connect, and Yelp. These listings are very reputable for customers looking for online reviews and frequently appear on the first page of Google—especially Google My Business.
Coverage on several (60+) general and industry specific business directories. Directory submissions have numerous local SEO benefits, including: faster indexing, higher link popularity, qualified traffic, keyword targeting, brand building, social media sharing, and above all else, more customers. Some of the most popular general business directories include Yahoo!, Citysearch, and Yellow Book. There are hundreds of sites to consider.
Long-tail citation development with localized and industry-specific websites. This will help you become a leader in both your community and niche, which ultimately leads to committed customers.
How Does Local SEO Impact Your Business?
The most popular (and often most desired) end result with a local SEO campaign is higher search engine rankings. While this is always a priority when establishing an SEO campaign, SEO also has other benefits for business owners.
This is because implementing a local SEO campaign goes beyond simply targeting a couple of keywords—and it's also the reason why effective local SEO can be so difficult to execute for many small business owners.
First, local SEO helps increase your overall online visibility. Just like anything else in the world of marketing and advertising, you need to be front-and-center with your customers in order to cut through the noise. If you simply sit back and expect Google to rank your local website without effort, you're sentencing your website to the dark and untouched corners of the search engines.
Local SEO can also help build trust between your business and your customer. Prominent visibility online gives a sense of establishment—customers can see that you have been around for quite a while, and you've put in the work to list yourself on numerous directories. It's even better if you add photos and other relevant information to these directories for the ultimate customer experience.
Effective SEO services are also helpful for your business to become a solution rather than a nuisance. The great thing about organic SEO is that it naturally brings traffic to your website—otherwise known as inbound marketing. With a local SEO campaign, you won't have to resort to annoying phone calls or other outbound tactics to generate business.
Local SEO is also measurable and controllable. When you or your local SEO company tracks your website stats with programs such as Google Analytics, you can clearly see results and determine what is (and is not) working for your campaign. When a strategy isn't working, you can pinpoint what went wrong and shift gears for a new focus.
To summarize, to be successful in your local SEO efforts, you should:
Get Listed
Get Reviewed
Get Social
Get Linked
Get Found
Get The Most Out of Your SEO With Changescape Web
It's no secret that SEO services are beneficial for your business, and Changescape Web can help. Find out how you can maximize your business with our SEO services—contact us today at 636-947-6200.