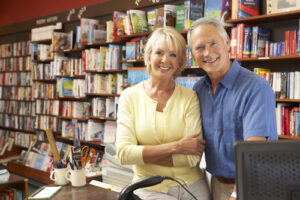 If you own a small business in Missouri, you have plenty to gain from a focus on local SEO in St. Charles or actually, anywhere you have a physical business presence. The principles of local SEO are the same wherever your business is located. If you are local to St. Charles, that's great and this post is for you. If not, feel free to substitute your own locality when you see me mention local SEO in St. Charles as you read through this post.
Why You Should Care About Local SEO in St. Charles
Here's the thing: If your business operates wholly online and you market your brand to the world, you might not need local SEO. On the other hand, if you have a physical location from which you conduct walk-in trade or if you offer a real-world service, trust me, local SEO is a fundamental online marketing necessity.
Rather than dwell on the whys and wherefores though, I'd prefer to offer you some useful guidance on how to market your business effectively using local search engine optimization. So here are four tips that every local business owner or marketer can use to bring traffic to the website and customers through the door.
Get Your Business on Google My Business
Google My Business is tailor-made for getting your business to show up under the noses of search engine users and, as such, has to be one of the most important aspects of local SEO in St. Charles. To really benefit from My Business, you will need to register and then verify your listing.
Verification is what really makes a positive difference to search rankings. Not only that, it also validates the fact that your entry represents a genuine business, as Nick Steeves from Wishpond explains in an article (Verifying your Google Plus Business Page) on his company's website.
Claim Your Yelp Listing
Yelp is the most popular online review site for consumers and is important for your success with local SEO in St. Charles. As a writer for Search Engine Watch, Yuyu Chen explains (in an article called Does Yelp Really Matter?) a presence on Yelp will get recognized and taken into account by Google's algorithms.
If your Yelp presence is a positive one, with a few complimentary customer reviews, there's a definite chance that your SERP (search engine results page) standing can benefit. Therefore, you shouldn't ignore the opportunity to claim your Yelp listing.
Practice Good Review Ethics
Customer reviews of your business form an important element of local SEO in St. Charles. As you might have guessed, positive reviews help you to rank well in search results, while negative reviews will only help to chase potential customers away. That's why it's important to take control and manage your business reputation online.
At the same time, as columnist Rachel Lindteigen advises in her Search Engine Land article, Google Maps, Yelp & Local SEO In 2015, there is a right and a wrong way to manage online consumer reviews. For example, soliciting for reviews is a cardinal sin in the eyes of sites like Yelp, so it's best to forget about taking the direct approach by asking customers to write reviews.
It is very important to consider a comprehensive online reputation management program.  Tips 1-3 are a good start, but these can be time consuming tasks and there are other things to consider like review monitoring and how these tasks can be automated / managed.
Optimize Your Website for Local Search
The previous three tips in this article have focused on offsite local SEO for St. Charles businesses. At the same time, there is also plenty that can be done on your own website to optimize it for local search—NAP for example.
NAP is an acronym for Name, Address, and Phone number. The significance of NAP is in the need for consistency. You should make sure the name, address, and phone number of your business is on every single page of your website and that it is set out and spelled consistently—not only on your own website, but wherever it is to be found online, such as on your Yelp and Google My Business pages.
HubSpot's Matthew Barby details a number of other ways to raise the local profile and presence of onsite content, all of which can be utilized for on the web design of St. Charles business websites. In his Search Engine Land article titled Local SEO: How To Rank Your Local Business, Matthew recommends the following measures:
Try to make sure your city, region, and a relevant keyword are included in the following locations on your landing pages:

The page title tag
The page URL
The H1 tag
Within the page content
In your Image ALT attributes

Include a Google Map with your location marker on every landing page
Work on attaining links from other local online entities
You should also include plenty of photos of your business on your website and your directory listings, including some of the interior and exterior of your premises. Visual imagery is almost as important as written content for achieving successful local SEO in St. Charles.
Localize Your Online Audience
While your website can be seen by the world, your goal should be to get it in front of the audience most likely to be a revenue source. If you follow the tips above, your business website will start to attract attention from more consumers who are shopping for products or services locally in your niche.
If you'd like to know how your local SEO currently stands up against your competitors, Changescape Web can tell you, for free. Just provide us with some details using our online form and we'll prepare a competitive search rank report for your business and help you review the results.