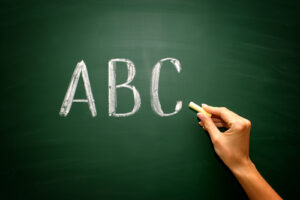 If you're a business owner in St Charles whose knowledge of search engine optimization extends little further than an awareness of its existence, don't worry, you're in excellent company. SEO is one of those digital marketing areas which, unless you have a keen interest in it, can fairly easily be placed in the hands of a specialist firm. At the same time, having knowledge of some SEO fundamentals is helpful when discussing tactics and strategy with your chosen St Charles SEO provider.
The ABCs of Search Engine Optimization
In order to give you a little help with the basics of SEO then, here's a quick dive into an important A, B, and C of search engine optimization, comprising A for Ahrefs, B for business directory listings and finally, C for content
A is for Ahrefs
Ahrefs is an online SEO analytics tool, especially useful for understanding how the content on your website and/or blog is performing. Better still, you can use it to analyze the performance of your competitors' websites too.
A great way to use Ahrefs to the advantage of your business is to take the advice of a writer at Search Engine Journal, who recommends the use of this comprehensive analytics suite to steal traffic from your competitors. In the SEJ article How to "Steal" Your Competitor's Search Traffic Using Ahrefs, you'll find some detailed guidelines for identifying which authority websites and blogs have linked to your competitors' sites.
With that knowledge, you can create some awesome content that's related to the subject matter of a competitor's most successful pages, articles, or posts; then reach out and try to get links from the same sources that linked to the competitor's content. This can actually be a very effective strategy to work on with your local provider of SEO in St Charles, who can use Ahrefs to help you tap into local traffic instead of letting it generate revenue for other businesses in your niche.
B is for Business Directory Listings
Never underestimate the value to be derived from getting your business listed in the major directories such as Google My Business, Yahoo Local Listings, Yelp, Yellow Pages, and any of the other highly regarded listings. As marketing CEO Jonathan Long points out in an article for Huffington Post (Local SEO: 5 Tips to Conquer Your Local Market) however, you can afford to skip the low quality, lesser known directories, since authority and quality count in getting Google and other search engines to elevate your rankings.
C is for Content
Content is the "stuff" that you put on your website pages. While your content might consist mostly of text, strategic use of other content forms such as images, video, infographics and audio all play a part in how well your website gets ranked by search engines.
Growth hacking expert, author and SEO guru Sujan Patel alludes to an insightful point about content in his SEJ article called Why is Content Part of a Smart SEO Strategy? A subheading in his article states that "content optimization is the new SEO." That statement perfectly sums up the importance of useful, engaging and well-written/compiled content for businesses wishing to attract and retain website visitors and ultimately, turn them into loyal customers.
If you want to get your website ranking on the first page of results for your most important keywords, you need to ensure your pages are filled with:
Highly relevant articles, blog posts and other textual content
Interesting images and helpful videos
Outbound links to high-authority blogs and websites
Inbound links from good-quality sources
Engaging infographics
You should also make sure that all written copy contains perfect spelling and contains no grammatical errors. Finally, you need to add fresh content on a regular basis, which not only helps to appease the gods of organic search, but will also give visitors a good reason to keep returning to your website.
How to Make Search Engine Optimization as Easy as ABC
Knowing the some of the ABCs of search engine optimization is helpful, but more than anything, SEO requires an investment of time and effort to be effective. If those are scarce commodities amid the busy day-to-day of running your business, you can instead commit some financial investment and engage a St Louis or St Charles SEO firm to do the lion's share of your website and content optimization.
While a little more expensive than the DIY approach, having a professional company take care of your SEO certainly makes the whole process easier and will hopefully bring better results than if the burden were placed on your own team's shoulders.
Changescape Web is a managed marketing solutions and SEO service provider, committed to helping small businesses succeed with SEO in St Charles and the St. Louis metro area. To find out how we can help you make SEO as easy as ABC, contact us today and let's discuss how to get your website moving up the search engine ranks.