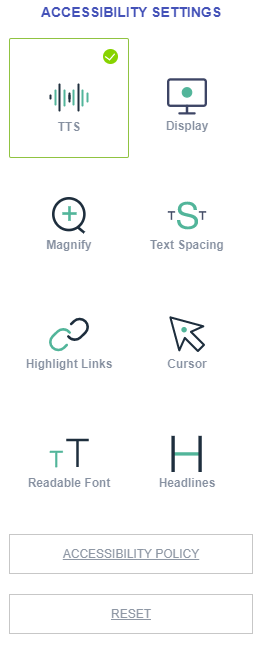 ADA stands for the Americans with Disabilities Act. It mandates that businesses and website owners make their web content accessible to people with disabilities. Specifically, it should provide accommodations for blind and deaf users and those who must navigate by voice, screen readers or other assistive technologies.
Although the law has been in effect for over a decade, it hasn't been strictly enforced until about two years ago. That's when the Supreme Court ruled against a website owner for non-compliance. Since then, thousands of companies have been sued because their website does not meet the requirements. Those businesses can expect to pay an average of $50,000 and up to settle their lawsuits.
Components of an ADA-Compliant Website
To meet the ADA compliance standards for a website, specific accommodations must be available. To be ADA-compliant a site must meet standards within four categories:
Perceivable
Operable
Understandable
Robust
Yes, these categories are very vague and can be interpreted in many ways. Some ways to make web content more accessible to people with disabilities, including:
Include readable descriptions for images and videos to help those who are sight impaired.
Create text transcripts for video and audio content to allow the hearing-impaired to understand the content.
Make the site's language clear to help those using text readers. This is done in the header code.
Offer alternatives to better navigate the site when they receive input errors.
Create a more consistent and organized layout where menus, links and buttons are clearly delineated and easily navigated.
How Changescape Web Can Help Make Your Website Accessible to All Users
Unfortunately, ignorance of the laws governing ADA compliance does not relieve website owners of the legal liability. They can still be sued for non-compliance and wind up paying thousands of dollars. And getting the website compliant can be confusing and expensive.
Changescape Web offers an affordable solution to this problem. Their solution ensures that the Web Content Accessibility Guidelines (WCAG2.0) are satisfied.
As Ken Tucker, owner of Changescape Web explains,
"Over the last couple of years, we've seen more and more concern and confusion about how to address website accessibility. There is a growing trend of lawsuits against businesses that have non-ADA compliant websites. We are happy to have a solution that is affordable and provides businesses with a solution to make their site accessible."
While the solution is no guarantee that the website owner or business will not be sued, having appropriate measures on the website demonstrates a strong effort to comply with the ADA requirements. Features that are analyzed include Text-to-Speech, Display Contrast, Magnification, Highlighting links and more.
It all starts with a free review of the current website and content. The tool scans for violations and highlights areas that need to be modified. The resulting report will contain guidelines and recommendations on what changes are needed to become fully compliant. If companies need assistance with making the appropriate modifications to their website to meet compliance requirements, Changescape Web can help with that as well. Just email them at Hello@changescapeweb.com.
About Changescape Web

Changescape Web is a digital marketing agency founded by Ken Tucker in 2005. They help businesses develop a marketing strategy and implement a marketing system in order to grow their business. Their services include a variety of marketing strategies:
Website design and development with built-in SEO for optimal search engine rankings.
Search engine optimization that can include a free SEO report of the current website.
Social media strategies for Facebook, LinkedIn, Twitter, YouTube, Instagram and more.
Marketing automation solutions that generate leads and sales. 
Ken will be delivering presentations on ADA compliance at the Monthly Marketing Meetup on June 10, 2020, for the Greater St Charles County Chamber of Commerce and the Old Post Office Startups.