Changescape Web is happy to announce that Ben Chambers has completed HubSpot's Inbound Marketing Certification program and is officially an Inbound Marketing Certified Professional.  The program involves an in-depth training process followed by a certification exam.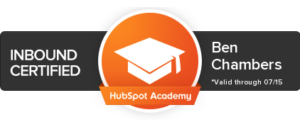 "This is a great honor," said Chambers.  "I enjoy helping clients discover new marketing solutions, and this enhances my ability to do so.  Inbound marketing is one of the most effective ways to generate traffic and increase a company's visibility, and this training provided me with the tools to deliver those results to Changescape customers".
As the company's newest Inbound Marketing Certified Professional, Ben will be focused on developing and executing strategies to make customers more findable online and to generate well-qualified leads and customers. In addition, he will represent Changescape in local business forums and interact with existing customers in order to ensure services are delivered in the most timely and effective manner possible.  His Inbound certification will also help him provide strategic advice to clients hoping to expand their business opportunities.
Ben joins Ken Tucker, the owner of Changescape, as the company's Inbound Marketing Certified Professionals.  They are qualified to help clients recognize their target customers, design strategies that will reach them, and leverage web and social media properties in a way that will draw visitors and help convert them to leads and customers.
Hubspot (www.hubspot.com) is one of the most respected sources for guidance and information on Inbound Marketing.  Their certification focuses on best practices for marketing professionals and helps give them the ability to drive business to themselves and their customers.  As a company focused on small to medium sized businesses, Changescape is uniquely capable of applying those lessons and delivering them to growing companies.
Changescape Web (www.changescapeweb.com) is a full service inbound marketing firm based in St. Charles, MO specializing in marketing strategies; inbound marketing, content marketing, social media marketing and strategy, social media education, website development, search engine optimization, lead nurturing, email marketing, and online advertising.