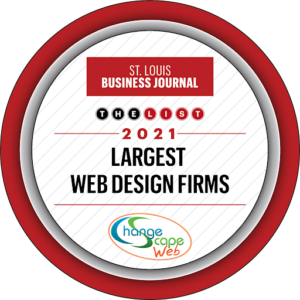 Changescape Web is proud to announce that we were named as one of the top ten largest local web designers in 2021. The list was compiled and published by the St. Louis Business Journal, based on the total number of websites designed and hosted during the year 2020.  The list of companies considered were those in the metro St. Louis area, including St. Louis, St. Charles, Lincoln, Warren, Franklin, Washington, and Jefferson counties and the city of St. Louis in Missouri; and St. Clair, Madison, Jersey, Clinton, Calhoun, Macoupin, Bond and Monroe counties in Illinois.
Changescape considers making the list as quite an accomplishment, as we competed with several other local web design firms, many of which were considerably larger in scale than Changescape Web. We'd like to give a lot of credit to our loyal customers who entrust us with designing their websites to achieve the best ROI. It really highlights the exceptional team that we have, so kudos to them as well!
Providing Web Design, Development, and More
Changescape Web focuses on providing on-line marketing solutions to small and medium sized businesses throughout the U.S. Many of our clients are in the services industries, like professional painters, construction and remodeling services, roofers, restoration companies, and professionals like accountants and financial advisors. We specialize in Conversion-Optimized WordPress websites.
Because every client's needs are unique, we work closely with each of them to learn what their goals are and how to achieve them with the right website. When we design and develop websites, we focus on the visual look and feel, usability, and effectiveness of website design.  This includes graphic design, font, layout, color scheme, CSS, site map, search engine optimization, and other design considerations. 
SEO Services and Packages
While the look and feel of a website are very important, what's behind it cannot be minimized. That's why our website design includes rich content that promotes Search Engine Optimization (SEO) by including the right keywords and content to improve your search engine rankings.
Changescape Web offers an SEO package that includes analytics to help track the behavior of visitors to your website. Managing this information helps determine the effectiveness of your website content.  Changescape also provides a website management service that reviews your website analytics and provides recommendations for improving website performance.
Changescape Web also encourages customers to continuously improve their websites and SEO because we consider developing a website as only the beginning of the journey to success.  The internet changes at a rapid pace.  Websites need new content and monitoring to remain relevant to search engines.    
Changescape offers a full range of website maintenance options to achieve long-term success.  These services range from website redesign to creating new content, changing web copy, writing blogs, adding pages and improving usability.
Social Media 
There are dozens of social media platforms out there. We focus on those that will best help your business grow. Changescape provides social media for business that includes strategy, planning, management, execution and training for Facebook, Instagram, YouTube, LinkedIn, Twitter, Pinterest, and Blogging. 
Whether it's to manage and implement a strategy, or to provide training to businesses that want to do their own social media, Changescape works with you to create an effective approach. We work with each client to use the social media sites that are most effective for their business.
Managed On-line Marketing Solutions
Changescape Web offers a comprehensive set of managed marketing solutions for small businesses.  These done-for-you marketing services focus on the things that small business marketing needs the most.
Marketing Strategy and Marketing Plan Development

Marketing Coaching and Virtual Chief Marketing Officer services

Website Design and Maintenance

Search Engine Optimization (SEO)

Content Management and Content Creation services

Smart Text Marketing

Google and Facebook Ads

Online Reputation Management

Social Media Management

Lead Generation and Lead Nurturing
Let Changescape Web Help Your Business Thrive Online
If you own a small business and need help with your online marketing, count on the experts at Changescape Web. We offer a variety of services to help your business grow and succeed.
Schedule a free consultation with us today to learn how we can help you get your business the online attention it needs.