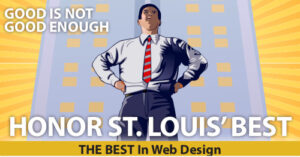 The St. Louis Small Business Monthly selected Changescape Web for it's Best in Web Design list for 2014.  The St. Louis Small Business Monthly publishes a "Best in Business" list each month. For the January 2014 issue, they published the Best in Web Design List.
"This is a real honor", said Ken Tucker, owner of Changescape Web.  "We've been providing website design and online marketing services since 2005.  This is really a statement about the great team we've built, and their hard work and dedication.  I also want to thank our clients, without whom this recognition would not be possible."
The St. Louis Small Business Monthly sends out an email to their readers and asks them to vote on a particular Best in Business section. They typically get more than 200 votes for each Best in Business category. The editorial department takes the Top voter getters to compile the list.
In June the St. Louis Small Business Monthly sends out all the lists of the winners from each month and they ask their readers to vote on the Top 4 in each group to create their Business Owners' Guide, which comes out every September.
Changescape Web was the only St. Charles based company that made the Best in Web Design 2014 list.
Changescape Web (www.changescapeweb.com) is a full service inbound marketing firm based in St. Charles, MO specializing in marketing strategies; inbound marketing, content marketing, social media marketing and strategy, social media education, website development, search engine optimization, lead nurturing, email marketing, and online advertising.
The St. Louis Small Business Monthly (http://www.sbmon.com/) is locally owned and established in 1988. SBM business tips, strategies and analysis to 16,000 businesses in the St. Louis Metropolitan area. The counties served include St. Louis City, St. Louis County, St. Charles County, Jefferson County, Madison County, St. Clair County.
20 January 2014, St. Charles, MO