We've all seen those businesses that show up on Google Maps. Creating an optimized Google My Business Profile is the key to getting your business to show effectively on Google Maps.
Google My Business and Local Search
Google My Business is more important than ever for small businesses to get found in a local search and get ratings from customers. Google My Business connects you directly with customers, whether they're looking for you on Search, Maps or Google+. Also known as Google Places, Google My Business makes it easier for customers to find information about your business online, including hours of operation, contact information and directions – all across multiple devices.
A local search is when someone adds a location to the search term – such as "online marketing St. Charles".
A Google My Business profile is essential for local SEO. It's free to set up and will enable you to appear in local search results for queries specific to your products or services. Here's how it works:
When users search for your product or service, the local search listings are the ones that dominate. In most cases, these local listings will be accompanied by markers for the lucky few, along with their addresses and phone numbers. Google also displays a map that points to each business highlighted in the actual search list. See below for an example.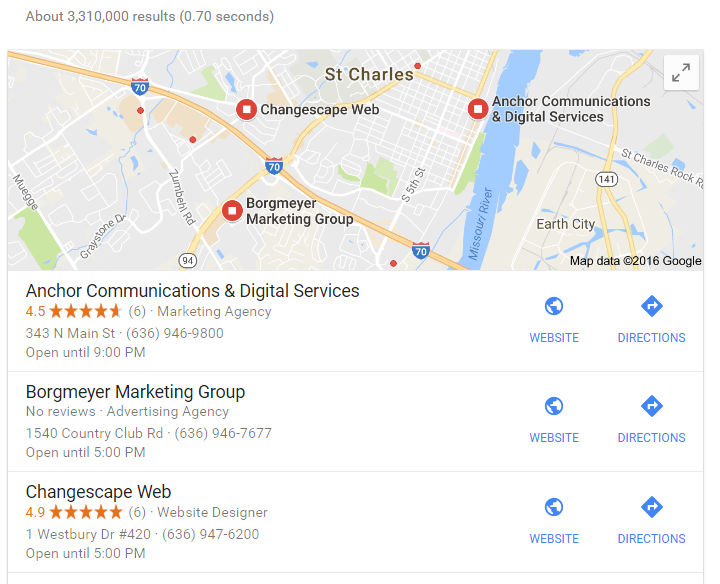 Local Directory References
Google has a small number of local directories it trusts, pulling publicly available data from these sources to use in its search results algorithm. These directories are the ones you'd expect – Yelp, Trip Advisor, Citysearch – but also some smaller, high-quality sites.
Your presence on these other sites signals to Google that your business is an active member of its local community. And so, while creating a listing directly on Google My Business is imperative if you want to rank highly in the local search results, creating a listing on all the other directories related to your business focus is also very important.
One key aspect to this strategy is that you should always list the exact same business information – business name, address, phone number (commonly referred to as NAP), hours, and to a lesser degree, business description. Doing so assures Google that your business is consistent and stable on all platforms.
Optimizing Your Google My Business Page
As well-optimized as your website may be, you need to also realize that the purpose of Google's local search results are to help people find businesses that are near them. For example, if you're, a dentist in Maryland Heights who would like to get business from people in Wentzville, don't expect an easy time of it from Google. In fact, the closer to the searcher you are, the more favor you curry with this component of Google's local search algorithm.
Much like the content on your website and blog, the information you use for Google My Business can be optimized. By keeping the information consistent across this page, as well as on other third party directory listings, your site will be recognized as an even more reputable business, which will pay off in terms of traffic and search engine rankings.
It's important now and in the future to claim and optimize your Google My Business Page. Besides pushing your business to the top of the search rankings, it'll also help potential clients:
Visually see your location
Find your contact details fast
See your business hours
Learn what others have to say about you
Quickly find directions to your location
See what your office or store looks like since you can add photos and even videos
Google Streetview 360 photospheres (both interior and exterior)
Some of the other benefits of properly optimizing your page are:
Links your website to your Local page
Increases your business's exposure and search traffic
You have full control over your business details and changing them
Don't ignore the power of Google My Business.
While you may be killing it in terms of search engine results, there is always room for improvement. Be sure local customers are finding you by taking advantage of this hugely effective tool.   And don't listen to SEO and social media pundits that claim Google+ and Google My Business are dead.  GMB is more important than ever, especially for local businesses.
Why Isn't Your Site Getting More Traffic?
You can waste days, weeks or months trying to figure out what's wrong with your Google Business Profile (GBP) listing – or you can let our marketing experts tell you exactly what the problems are and how to fix them with our free "Google Business Profile" listing audit!
Request your free audit now, and you'll get an in-depth analysis written in plain English. The audit will show you what's wrong with your Google Business Profile, and how to fix the issues so that your listing ranks better and generates more calls, clicks and local foot traffic.
You'll find out how to:
Start getting more targeted phone calls, website clicks and foot traffic from your GBP listing.
Optimize your Google Business Profile listing to engage visitors and tell them why they should do business with you.
Outrank your competition and improve your online visibility.
Get your free GBP audit by filling in the form now: