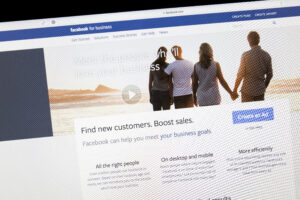 Using Facebook advertising for small business can be easy to do, but it can also lead to wasted money. Reaching your target audience online can be tough work. There are numerous methods that can help to expand your customer reach, ranging from organic search engine optimization to pay-per-click advertising. With all of the digital marketing options available to small business owners, Facebook advertising is one of the most popular and effective. There are many advantages of choosing Facebook advertising over other variations of digital marketing, and this blog outlines the top reasons why your small business can benefit from Facebook ads.
Reason #1: Facebook Advertising for Small Business can be Very Affordable
Some business owners shy away from search engine marketing due to its cost and the timeframe that it takes to get results. Google pay-per-click can cost a pretty penny, especially when you don't know how to properly optimize your campaign and bid smart on your target keywords. However, Facebook advertising is still a relatively affordable option if you play your cards right.
In order to make your Facebook advertising campaign as affordable as possible, you'll need to clearly define your audience. Broadcasting your ad to everyone between the ages of 18-85 won't do your campaign any favors. You'll waste money on both clicks and impressions, which will quickly deplete your budget as your campaign comes to an abrupt end.
When you fine-tune your Facebook advertising campaign for the proper demographics and audience, you'll save more money while scoring new business and relevant leads across the board.
Reason #2: Pinpoint Your Perfect Customer
One of the best advantages of using Facebook advertising is the ability to pinpoint your perfect customer. Facebook gives business owners an impressive selection on targeting specific demographics. This is also where Facebook advertising differs from Google pay-per-click—PPC focuses on keyword searches queries, while Facebook targets user demographics and interests.
These are several examples on how you can use Facebook advertising to pinpoint your perfect customer:
A local women's clothing boutique can target female customers of varying age ranges, depending on the style of clothing and accessories that you have in stock.
A Mexican restaurant can advertise a Friday margarita special to customers over 21 within a 10-mile radius of a college campus.
A local pet store can target people who live within the area and have an interest in cats, dogs, and animal welfare.
Facebook advertising allows you to target the right customer from many angles. You can break down the target demographic by age, education, interests, gender, and more.
Reason #3: Facebook Has Over 1 Billion Active Users
During the first quarter of 2016, Facebook had 1.65 billion active users on its platform, which accounts for the number of people who logged in throughout the specific timeframe. This statistic tells us that there is a high probability that your target customers have a Facebook account, regardless of where you are located in the country.
Facebook gives you an amazing opportunity to target a very large amount of people quickly and affordably.
Reason #4: Facebook Ads Are Mobile Ready
As the importance of mobile optimization has increased over the last couple of years, Facebook has stayed on top of the trends. Facebook automatically optimizes your Facebook ads to properly display on mobile devices, so you won't lose sales due to poor presentation. Facebook accounts for numerous platforms, including desktop computer, tablets, and smartphones.
Reason #5: Facebook Ads for Remarketing
Facebook remarketing capabilities are incredible.  By adding the Facebook remarketing pixel on your website or even on specific pages, you can create a custom audience of people who have visited your website and use that custom audience to use as your targeting criteria.  This is a great way to run highly relevant ads to people you know are already interested in your business, or a specific product or service.
Reason #6: Facebook Lookalike Audiences
Facebook gives you the ability to create lookalike audiences from your email list, from website visits, using your existing page likes, and more. Think about this for a minute.  Facebook can use the attributes of your existing, highly relevant, contacts to go out and find other people who look like your contacts and create a target audience for your Facebook ads! For more information on how to use Facebook Lookalike Audiences, check out Jon Loomer.
How to Get the Most Out of Your Facebook Advertising Campaign
Facebook advertising can be very effective, but only when you properly set up and execute your campaign. Many small business owners click a few buttons and boost their post, expecting great results. However, this method often ends in disappointment as results fall flat and wastes money.
In order to get the most out of your Facebook advertising campaign, here are several techniques and tips to consider:
Tip #1: Set a Goal
You can't properly execute a Facebook advertising campaign when you don't have a goal in mind. Goals can include elements such as more website visits, page likes, phone calls, and even getting directions to your business. You'll also want to consider your Facebook ad type, since your selected ad plays a role in your overall conversion rate.
Tip #2: Leverage Facebook Offers for Exclusive Promotions
When you're trying to drum up new business specifically through Facebook advertising, consider leveraging Facebook Offers. You can use this option to give something away such as an eBook—which helps you build your e-mail subscription list at the same time.
You can also create an offer or discount that can be redeemed when customers visit your store or restaurant. This will help you get more customers through the door, and potentially make more sales when they visit your store in person.
Tip #3: Be Careful About Ad Design
Many businesses are gung-ho about their graphic ads and try to put too many words in one place. Facebook only allows your ad to contain 20% text—once you submit your ad for approval, it is either accepted or rejected, and too much text leads to rejection.
The best way to get around this is to leverage text in all areas that Facebook offers, and not just the graphic. Put your most prominent or compelling offer on the graphic to catch attention. Write a catchy headline and include any details in the remaining text. There aren't a ton of characters to work with, but a little creativity goes a long way.
Tip #4: Avoid Facebook's Default Ad Settings
When you're ready to launch your ad, don't rely on Facebook's default demographic settings to get results for your campaign. The default settings are often much too broad and will quickly deplete your budget.
Tip #5: Test, Monitor, and Track Facebook Ad Performance
When doing any kind of advertising, I recommend testing, monitoring, and tracking the ad performance. Facebook ads are no different. You can create several versions of your ads to see how each element of your ad performs, as well as which ads generate the best results. Use this to optimize your ad campaigns by killing off the low performers to get better results, save money and drive better return on investment.
Interested in Facebook Advertising? Changescape Web Can Help Boost Results
When you're ready to get the most out of Facebook advertising, contact Changescape Web to help set up your campaign and get the best results possible. Contact us today to learn more.