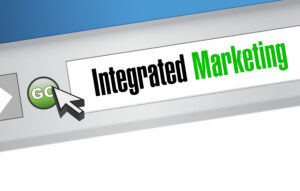 Integrated marketing has never been more important. In the year 2016, small businesses have more options than ever before to market their services and products. From search engine optimization to billboards and brochures, it can be hard to decide which avenue to take to get the most out of your ROI. The good news is that you can use these various marketing platforms to your advantage and strategize a campaign for them to work together—potentially resulting in more leads, more sales, and new customers.
The idea behind this is to create an integrated marketing campaign that seamlessly blends your advertising efforts into one. The process helps ensure that you have a consistent message across all channels that are centered on your customer. This consistency helps you create a brand message that resonates with your customers both online and offline.
Most experts agree that it takes at least 7 marketing touches to help a customer through their journey to become a customer. Obviously this varies from industry to industry or based on the nature and complexity of the product, service, or solution that the customer is looks for.
When it comes to creating an integrated marketing campaign, small business owners truly have a world of options at their fingertips. However, one of the most popular approaches to integrated marketing is blending social media and direct mail.
If you're considering creating an integrated marketing campaign using social media and direct mail, here are a few tips to help get the best results possible:
Tip #1: Use Direct Mail to Help Build Your Social Following
Building a social media following can be tough regardless of if you're using Facebook or Instagram. While there are numerous ways to help grow your social media base, direct mail can help give you an extra boost.
One smart approach to this method is to make sure that you include your social media handles on all of your direct mailers. These icons can be a subtle element to your direct mailer, or you can create a fun design around the icons to draw attention. A simple "Follow us on Twitter" or your platform of choice will help encourage customers to engage with you online.
Tip #2: Use Direct Mail to Spark Social Conversations
Social media is all about building relationships and conversations, which is hard to accomplish through direct mail. However, you can use direct mail to this advantage and encourage customers to log on and interact with your brand on social media.
Your direct mail ads can be designed to encourage conversations about your brand, products, and services. When you want customer opinions and more interaction on your social accounts, direct mail can help connect with both old and new customers alike.
Tip #3: Include Social Proof on Your Direct Mailers
Social proof is one of the strongest ways to build credibility for your brand. Why not take your social proof into the offline marketing world? When you send out direct mailers, consider publishing real social media reviews from Facebook onto your ads. With permission from the customer, you can use their testimonial, name, and possibly their profile photo to help spread the word about your brand.
This can help spark interest with new customers and encourage them to give your product or service a try.
Tip #4: Use Social Media to Build Anticipation About New Offers
As you can see, tying your direct mail to your social media profile is easy—but what about the other way around? The beauty of integrated marketing is that you can easily transition between marketing platforms without missing a beat.
You can use your social media accounts to create anticipation about new and upcoming offers. These offers can be anything from a coupon to a giveaway. The idea is to clue your customers in on the deal and have them stay on the lookout for your newest direct mailer.
Tip #5: Post Your Direct Mailer Campaigns on Social Media
With integrated marketing, it's fair game to cross promote the same campaigns across multiple platforms. You can begin a campaign that is primarily for direct mail and blend it to work on social media as well. This approach can help you tap into new business from multiple channels, giving you the best results possible for your new integrated marketing campaign.
Tip #6: Use Direct Mail to drive traffic to your website, and do lead nurturing on Facebook
Direct Mail can be a great way to drive traffic to your website. But consider driving the traffic to a specific page on your website, and using the fact that someone visited that specific page on your website to build a custom audience on Facebook to use for Facebook ads. Using Facebook remarketing to only the people who visited that specific page to your website allows you to create a highly targeted ad campaign for a very low budget. And the ad will be highly relevant to the people that it is running for because you know that they already have interest.
Top Techniques for Creating a Successful Integrated Marketing Campaign
Now that you have some ideas on how you can blend social media and direct marketing together, there are some techniques and strategies to consider before you move forward. Here are a few things to keep in mind for creating a successful integrating marketing campaign:
Consider Your Target Audience
Nearly any marketing campaign will flop if you don't have a target audience in mind. For example, you wouldn't want to send a home improvement direct mailer to someone who rents a high-rise apartment. You'll want to carefully consider the neighborhoods in your town that generate enough income to make home improvement upgrades, and most of all ensure that they own their home. Renters typically don't have control over making improvement upgrades to their units, which results in wasted advertising dollars for your business.
In fact, using direct mail can be a great way to create a highly targeted audience on Facebook for Facebook ads.
Carefully Choose Your Social Channels
Another way to avoid wasting money on your advertising is carefully choosing your channels. You'll want to do research and ensure that your integrated marketing campaigns involve channels that your customers actually use—whether it's Facebook, Twitter, or Instagram.
Create a Consistent Theme
One of the biggest points of implementing an integrated marketing campaign is remaining consistent across all channels. This means using the same style of graphics and logos, and you'll also want to keep your voice and tone the same as well. Consistency shows that your brand is organized and your integrated marketing campaign is well executed.
Remember to Track Your Results
You'll never know if your integrated marketing campaign is successful if you don't track your results. Set up a unique phone number to track any incoming calls, and you can also easily track new likes and followers throughout your campaign. Whatever your conversion goal may be, make sure you stay on top of the results throughout the process.
Launch Your Integrated Marketing Campaign with Changescape Web
When you're ready to get the most out of your integrated marketing campaign, Changescape Web can help. Get in touch with us today to learn how to cross promote on your marketing channels by calling 636-947-6200.
Need some inspiration?  Download our free ebook 50 Simple Lead Generation Tactics